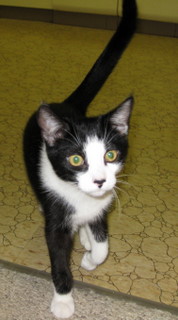 I was pretty dead set against getting another cat after losing Bailey, but my parents had other ideas and imported Spencer into my life. I liked him pretty instantly, even though his manic playfulness was somewhat of a hassle to Bailey in his last days. (Spencer, you're lucky Bailey was ill, because you would have gotten your little ass brutally kicked had he been healthy enough to remember how he felt about other cats crowding his attention space.)
My mother said that she knew that I'd accept Spencer into my life after I named him, but I was just doing my best to prevent him from being named Bandit or Blackie or whatever moniker he would have been struck with.
I'm extremely monogamous (even when it comes to strippers!), but after mourning Bailey and facing the thought of another empty bed in my new apartment I opened my heart to the little rascal, and he's definitely a rascal. He has what seems to be an infinite amount of energy and can often be found racing and bounding his way from furniture piece to furniture piece as if he'd just been shocked with 10 million volts of electricity. He has a little too much courage if you ask me. He's tiny and fond of attacking, wrestling, and competing for prime resting space with cats three times his size. So far he's mostly competed with the elderly, so I'll do my best to keep him away from younger competition.
When I've been gone for a while he runs up to me and collapses at my feet.
He's quite the lover. He kisses with plenty of tongue. Maybe I should have named him Lebeau.